Many customers don't know how to produce the composite insulators and surge arrestors, Actually it's not hard, what you need are just the precision mold, HTV silicone rubber compound, fittings, rods, and the most important thing-HTV Silicone Rubber Injection Molding Machine. 

Huayi HTV Silicone Rubber Injection Molding Machine is very suitable for power industry client to produce composite insulators, surge arrestors and cable accessories.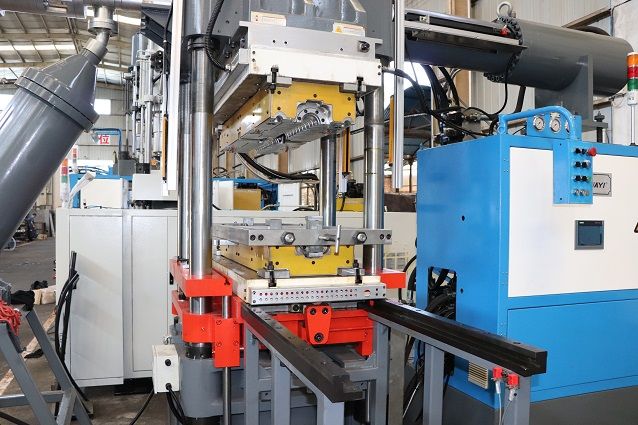 The advantages of our HTV silicone rubber injection molding machine are as bellow:
1.   The electrical control unit and hydraulic unit are all using world famous brand such as Siemens, Schneider and Yuken with full frame for safety, clamping unit with free space for easier mold checking & cleaning and products take off;
2.   Siemens precision control system, which can monitor the injection machine operated status, if there is any abnormal situation, the machine will stop and continue alarming;
3.   Protection-light curtains for preventing workers from danger;
4.   Can provide cold runner block with separate temperature control unit, it is interlocked with machine PLC and can be monitored by PLC;
5.   HTV silicone rubber feed Stuffer for easy silicone rubber material filling;
6.   Sliding table for easily loading/unloading the molds;
7.   T slot for easily mould mounting;
8.   Core pulling hydraulic connection and mold lift function prepared for demolding requirements of different molds;
9.   The main components warranty time of Huayi HTV silicone rubber injection machine is 12 months after machine installation and acceptance by your side in your factory;
10. We can arrange engineers to help you to do the machines & molds installation, commissioning and operator training free of salary;
11. Turnkey project service can be offered by us with HTV silicone rubber injection machines, precision molds and insulator materials, they will be tested successfully before delivering to you, and the machine must get full quality checking and automatic running 500 shots before delivery, in this way we can make sure no quality problem left to customer plant.
Machine working video link: https://youtu.be/Ashpp5yyb5E
If you are in power industry, just choose us, Huayi Rubber Machinery!
We are ready to be the best insulator machine supplier of you!
Thanks for reading,
Adam Long
Email: huayijx002@huayijx.com
Whatspp: 0086 15073401253