In the March of 2020, Huayi machinery shipped CE rubber injection machine to Poland, European.Customer finally got the machines smoothly despite the effects of the conora virus.
How to make CE rubber injection molding machine? as the production of rubber injection machine with more than 20 years experience, this is very familiar and professional work for Huayi company. So, what are the main requests or features of CE rubber injection molding machine? Below are some simple descriptions on design rubber injection machine of CE standard:
CE requests on mechanical structure:
1. Safety guards protection: any doors or channels can access to the machine clamping unit easily, CE light barriers or safety doors with sensors should be added;
2. CE marks and warning labels on dangerous locations, heating zones or moving parts.
CE requests on electrical control:
1. CE certificated electrical components;
2. CE safety relays;
3. CE operation panel and electrical cabinet, should have current leakage protection, waterproof and moisture proof;
4. CE safety labels or warning marks on all accesses of electric parts;
5. Electrical diagrams should be audited by the third party who has the ability to issue CE certifications.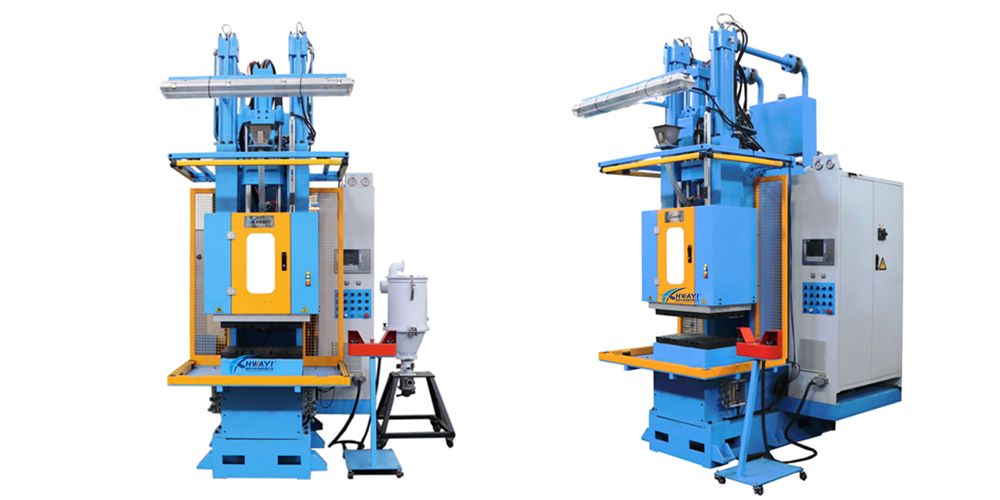 https://www.hwayimachine.com/c-frame-injection-press


CE requests on hydraulic system:
1. Lower pressure mold clamping protection: during the clamping, if the clamping pressure is over set value, the machine should be stopped suddenly to avoid any injury for operator or molds;
2. Safety hydraulic valves ;
3. Explosion-proof chains on all hydraulic hoses;
4. CE certificated hydraulic components;
5. Hydraulic control diagrams should be audited by the third party who has the ability to issue CE certifications.

Once the third party audited and proved the rubber injection machine which conformed to CE standard, CE certification will be issued, and CE marked name card should be stuck on machine.
CE certification is necessary to export any machines to European, not only of rubber injection machine, but the general requests are similar, no matter you are interested to know more CE standard rubber injection machine or CE standard vulcanizing press, welcome to contact us,we can provide your professional guidance for high quality CE rubber injection molding machines.
Posted by Joyce Lau
Email: huayijx003@huayijx.com
Wechat/whatsapp:0086 15073424261